JULIE CAMPICHE QUARTET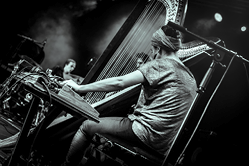 /// Project created in 2016
Repertoire: original compositions
Direction: Julie Campiche
---
After 8 years with critically acclaimed ensemble Orioxy, in 2016 Campiche assembled a new generation of Swiss musicians for her eponymous quartet. All four musicians employ electronic effects which intertwine in a delicate yet powerful acoustic space, balancing structured passages with open improvisations. This uncluttered 'electro-acoustical' experience leaves room and scope for a wide range of exciting possibilities.
Throughout, there are dramatic shifts in sound also, due in large part to Campiche's motivations for her music. Her musical language is drawn from her generations most urgent concerns; stockpiles of radioactive waste, the media's incessant flow of news, and identity in a digital world. Taken as a whole, these themes infuse her music with a determined yet urgent fragility that is as compelling as it is reflective.
/// Line-up
Leo Fumagalli - saxophone & FX
Julie Campiche - harp & FX
Manu Hagmann - double bass & FX
Clemens Kuratle - drums & FX
/// News
Debut Album - Release in February 2020 by Meta Records
The baroque ensemble Capelle Jenensis will meet the Julie Campiche Quartet for a unique concert in Jena on November. The resulting concert/journey begins with baroque yet culminates in jazz. There are unexpected lyrical interludes along the way!
Julie Campiche Quartet feat. Vanessa Pahud
After the success of their collaboration for the Flash Info video clip, the trapeze artist Vanessa and the Julie Campiche Quartet will perform live on the occasion of a special creation for the Winterfestival in January 2020.

/// Press
" More subtle, yet equally impressive, Swiss harpist Julie Campiche's UK debut revealed a unique voice both in her electronically processed instrument and the style of her playing. "
" As regards bands which particularly impressed me, the combination of harp with saxophone, bass and drums in Julie Campiche's Quartet stood out; they created a very attractive and distinctive sound."
Tony Dudley-Evans - London Jazz News, concert review at 12 Points Festival- September 5th 2018
The Onkalo piece has been selected to appear in the compilation SWISS JAZZ no rules which was published in November 2016 in the English magazine Jazzwise.
>> Press review - Julie Campiche Quartet
/// Highlights
Julie Campiche Quartet was nominate to represent Switzerland at the 12 Points Festival 2018 in Dublin
Julie Campiche Quartet was nominate for the Montreux Jazz New Talent Award 218 and performed at Montreux Jazz Festival
/// New Video Clip - 'Flash Info' meet 'So Ham' - Julie Campiche Quartet & Vanessa Pahud
---
/// Live @ Schaffhouser Jazz Festival / May 25th, 2018