JULIE CAMPICHE QUARTET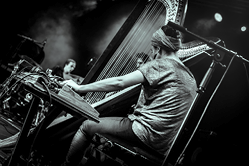 /// Project created in 2016
Repertoire: original compositions
Direction: Julie Campiche
After 8 years with her group Orioxy, Julie has begun a unique musical adventure in a purely instrumental form.
This new project evolves in a strangely melancholic atmosphere. The electronic effects intertwine in a delicate yet powerful acoustic space. This uncluttered electro-acoustical experience leaves a lot of room for a wide range of improvisation.
Julie's compositions are inspired by some of her generation's most urgent concerns. Her music induces reverie or it focuses on current events, such as in Onkalo that derives its name from a stockpile of radioactive waste. We also find Flash Info, which evokes the media's incessant flow of news.
/// Line-up
Leo Fumagalli - saxophone & FX
Julie Campiche - harp & FX
Manu Hagmann - double bass & FX
Clemens Kuratle - drums & FX
/// Press
" As regards bands which particularly impressed me, the combination of harp with saxophone, bass and drums in Julie Campiche's Quartet stood out; they created a very attractive and distinctive sound."
Tony Dudley-Evans - London Jazz News, concert review at 12 Points Festival- September 5th 2018
The Onkalo piece has been selected to appear in the compilation SWISS JAZZ no rules which was published in November 2016 in the English magazine Jazzwise. This compilation was on the playlist of British Airway and Swiss airlines on December 2016.
>> Press review - Julie Campiche Quartet
/// Highlights
Julie Campiche Quartet was nominate to represent Switzerland at the 12 Points Festival 2018 in Dublin
Julie Campiche Quartet was nominate for the Montreux Jazz New Talent Award 218 and performed at Montreux Jazz Festival
/// Audio - live @ BCV Concert Hall, Lausanne / June 2nd 2016
mixing & mastering by Martin Ruch
Julie Campiche Quartet - Peter where are you
Julie Campiche Quartet - Onkalo

/// Live @ Schaffhouser Jazz Festival / May 25th, 2018