BIOGRAPHY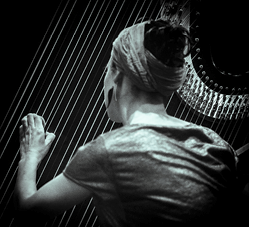 ///

In a few words...

Harpist Julie Campiche's work is an on-going process of musical innovation. Through research and experimentation she has developed the use of electronic effects that enhance the scope of her improvisational work. She has a very personnel technique and her own musical language.
Julie introduced her harp into the world of jazz and contemporary music in a very organic way. She now performs in numerous European clubs and festivals on a regular basis. Through her innate curiosity and desire for new experience she plays with groups that have diverse instrumentation and esthetics. Be it theatre or contemporary performance, octets or duos, compositions or free-style improvisation, Julie infuses her music with an urgent fragility.
In 2016 Julie is widening her musician's experience and is starting in the sound design field. She got the instruction from RTS (Swiss radio and television) to create the new jingle for radio channel Espace 2.
/// Highlights collaborations
Jasper Høiby, Erik Truffaz, Malcolm Braff, Andreas Schaerer, Eric Longsworth, Claire Huguenin (Jibcae), Manu Hagmann, Cédric Chatelain, Wolfgang Zwiauer, Manu Gesseney, Jacques Siron, François Gallix, Gilles Torrent...
/// Highlights concerts
Festivals
Cheltenham Jazz Festival, 12 Points Festival, Cully Jazz Festival, Schaffhauser Jazzfestival, Copenhagen Jazz Festival, Gaume Jazz Festival, Match & Fuse Festival, Jazz à la Villette, Jazzèbre, Avignon Jazz Festival, Jazz à Vienne, Festival de la Bâtie, Avignon Festival off (theater), Swiss Harp Festival, Klangfest, Festival International Harpe en Avesnois, Hafensommer, Antigel, Ystad Jazz Festival, etc.
Clubs
Sugar Club, AMR, Chat Noir, l'Usine PTR, Moods, Bee-flat, Sunset, La Bellevilloise, Le Périscope, Le Moulin à Jazz, Unterfahrt, B-flat, Bix, Moritzbastei, Kunstfabrik Schlot, etc.
/// Teaching
Private lessons – all levels
/// Studies
First harpist to study at the CNR Department of Jazz, Lyon, France
Professors: Jérôme Regard, Jean-Louis Almosino, Rodolphe Guillard & Mario Stantchev
Diploma in Musical Studies (DEM), Classical Harp / CNR, Lyon, France
Professor: Christophe Truant
Private jazz harp studies with Park Stickney
AMR workshops: latin jazz, tango, standards, jazz modal, spontaneous composition, jazz harmony, development of the musical ear, etc.)