JULIE CAMPICHE QUARTET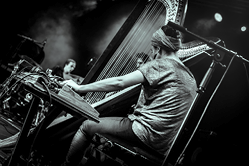 /// 2016 gegründet
Repertoire: Eigenkompositionen
Leitung: Julie Campiche
---
Nach 8 Jahren reger Konzerttätigkeit mit der Gruppe Orioxy, lancierte Julie Campiche 2016 mit einer neuen Generation von Schweizer Musikern ein Projekt unter eigenem Namen.
Alle vier Musiker setzen elektronische Effekte ein und schaffen so ein zerbrechlich und doch kraftvolles Klangbild in welcher sich Komposition und Improvisation die Waage halten. Die elektro-akustische Klangwelt, die diese Band erschafft, lässt Raum für vieles. Eindrückliche klangliche Kontraste prägen das Repertoire, ausgehend zu grossen Teilen von den Inspirationsquellen für Campiches Musik. Ihre musikalische Sprache ist geprägt von den grossen Fragen ihrer Generation: Die Unmengen an radioaktivem Abfall, die multimediale Reizüberflutung und die Suche nach Identität im digitalen Zeitalter.
So ist diese Musik in ihrer Fragilität kraftvoll, ansprechend und hochaktuell.
/// Line-up
Leo Fumagalli - Saxophon & FX
Julie Campiche - Harfe & FX
Manu Hagmann - Kontrabass & FX
Clemens Kuratle - Schlagzeug & FX
/// News
Neues Live-Repertoire am 1. Oktober zur Eröffnung des JazzContreBand-Festivals
Erste Album - Release im Frebruar 2020 in Meta Records
/// Zusammenarbeit
Barockquartett & Julie Campiche Quartett
Im November 2019 hat das Barockensemble Capella Jenensis auf das Julie Campiche Quartett getroffen. Eine Konzertreise die barock beginnt und im Jazz ihr Ziel findet. Ein einmaliges Konzerterlebnis, voller unerwarteter, lyrischer Wendungen.
Dieses Projekt gewann den 1. Preis bei der Nacht Klang vom Musikfest Erzgebirge 2020 und der Deutschlandfunk Kultur wird ein Album mit dieser Musik produzieren.
Julie Campiche Quartet feat. Vanessa Pahud
Nach der erfolgreichen Kollaboration für den Videoclip "Flash Info", entschlossen sich die Trapezkünstlerin Vanessa Pahud und das Julie Campiche Quartett eine Live-Performance, speziell für das Bejazz-Winterfestival im Januar 2020 zu entwickeln. Diese Show wird bald wieder auf der Bühne stehen. Fortsetzung folgt!
/// Press
" More subtle, yet equally impressive, Swiss harpist Julie Campiche's UK debut revealed a unique voice both in her electronically processed instrument and the style of her playing. "
" As regards bands which particularly impressed me, the combination of harp with saxophone, bass and drums in Julie Campiche's Quartet stood out; they created a very attractive and distinctive sound."
Tony Dudley-Evans - London Jazz News, concert review at 12 Points Festival- September 5th 2018
" vermag sie einen erstaunlichen Sog und Groove zu entwickeln. "
Steff Rohrbach - Jazz'n'More, concert review at Schaffhouser Jazz Festival - July/August 2018
" Zu danken war für jeden Ton dieser Performance. "
Joachim Fildhaut, Konzertchronik, Mainpost
>> Presseschau - Julie Campiche Quartet
/// Highlights
1. Preis bei der Nacht Klang vom Musikfest Erzgebirge 2020 mit den Capella Jenensis Ensemble
nominiert, um die Schweiz beim 12 Points Festival 2018 in Dublin zu vertreten
wurde für den Montreux Jazz New Talent Award nominiert und hat am Montreux Jazz Festival gespielt
für Kompilationen CD SWISS MUSIC - JAZZ IX (2020) und Swiss Jazz No Rules (Jazzwise Nov. 2016) ausgewählt

---
/// Video Clip - 'Flash Info' meet 'So Ham' - Julie Campiche Quartet & Vanessa Pahud
---
/// Live @ Schaffhouser Jazz Festival / 25. Mai 2018