JULIE CAMPICHE QUARTET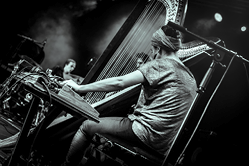 /// Projet crée en 2016
Répertoire: compositions originales
Direction de groupe et compositions: Julie Campiche
---
Après 8 années avec son groupe Orioxy qui fut largement salué par la presse internationale, Julie a démarré son quartet éponyme en 2016. Ce nouveau projet composé de musiciens suisses de la nouvelle génération propose une musique où les effets électroniques de chaque instrument s'imbriquent dans des ambiances délicates et puissantes.
Un projet électro-acoustique et épuré qui fait la part belle à l'improvisation!
Les compositions de Julie puisent notamment leur inspiration dans les grandes questions de sa génération tels que le stockage permanent des déchets radioactifs ou le flux incessant des médias. Ces thèmes confèrent à sa musique une fragilité à la fois déterminée et urgente, aussi convaincante que réflexive.
/// Line-up
Leo Fumagalli - saxophone & FX
Julie Campiche - harpe & FX
Manu Hagmann - contrebasse & FX
Clemens Kuratle - batterie & FX
/// News
Premier album - sortie en février 2020 sur le label Meta Records
Quatuor baroque & Julie Campiche Quartet
L'ensemble Capelle Jenensis et le Julie Campiche Quartet vont se rencontrer pour un unique concert à Jena. Un concert-voyage qui démarre dans le style baroque pour finir dans le jazz, avec des étapes aussi lyriques qu'inattendues!
Julie Campiche Quartet feat. Vanessa Pahud
Après le succès de leur collaboration pour le vidéo clip de Flash Info, la trapéziste Vanessa et le Julie Campiche Quartet se produiront en live à l'occasion d'une création spéciale pour le Winterfestival en janvier 2020.
/// Presse
« More subtle, yet equally impressive, Swiss harpist Julie Campiche's UK debut revealed a unique voice both in her electronically processed instrument and the style of her playing. »
" As regards bands which particularly impressed me, the combination of harp with saxophone, bass and drums in Julie Campiche's Quartet stood out; they created a very attractive and distinctive sound."
Tony Dudley-Evans - London Jazz News, concert review at 12 Points Festival- September 5th 2018
" des compositions oniriques où le jazz oscille entre puissance et vulnérabilité. "
David Brun-Lambert - Le Phare - Mai 2018
Le morceau Onkalo a été sélectionné pour apparaître sur la compilation SWISS JAZZ no rules qui est sorti en novembre 2016 dans le journal anglais Jazzwise.
>> Revue de presse - Julie Campiche Quartet
/// Highlights
Julie Campiche Quartet a été sélectionné pour représenter la Suisse lors du 12 Points Festival 2018 à Dublin
Julie Campiche Quartet a été nominé pour les Montreux Jazz New Talent Award 2018 et s'est produit au Montreux Jazz Festival
/// Nouveau video clip - 'Flash Info' meet 'So Ham' - Julie Campiche Quartet & Vanessa Pahud
---
/// Live @ Schaffhouser Jazz Festival / 25 mai 2018